Physiotherapy for Back Pain
Physiotherapy for Neck Pain
Physiotherapy for Knee Pain
Tennis Elbow Physiotherapy
Post Covid-19 Physiotherapy
Physiotherapy for Knee Joint Pain
Physiotherapy for Cervical Pain
Physiotherapy for Shoulder Pain
Physiotherapy for Osteoarthritis
Postpartum rehabilitation
WELCOME TO DR. AGGARWAL'S
BEST PHYSIOTHERAPIST IN NOIDA
Dr. Amit Aggarwal's Physiotherapy Centres will provide you the best care to help you move well and stay well..!
Best Physiotherapist in Noida – Dr. Aggarwal  Physiotherapy & Rehabilitation Centre, latest equipment to give a higher standard of Physiotherapy services. We rehabilitate individuals for all illnesses which includes heart, lungs, back, neck, shoulder, elbow, knee, hands pain, etc. Best Physiotherapist Near me.
We Are One of the Top Physiotherapists in Sector 48 Noida.
"Dr. Aggarwal is a very experienced and professional physiotherapist. He along with his team is very quick to diagnose the issue and proceed with the therapies accordingly. I would highly recommend visiting this centre for any such need."
"Thank you for making me so much better. Thanks for your good care and concern. Dr. Aggarwal Physio Centre have the best doctor for laser therapy. I am a cricket player and now Because of her I can continue playing matches as before."
"Visited the hospital on 30th September 2020 when my foot got twisted in the marketplace. I had severe pain but thanks to Dr. Amit Agarwal and his team members for giving me the instant relief."
Frequently Asked Questions
What is a Physiotherapist?
Physiotherapists help people affected by injury, illness or disability through moment and excersice, manual therapy, education and advice. They maintain health for people of all age helping patients to manypain and prevent disease. They help to encourage development and facilitate recovery. 
Do I need a doctor's reference?
No, physiotherapists can evaluate and cure without referral by any specialised doctor. You are able to confidently visit us speak with us if you have any queries.
How can I make an appointment?
You can get in touch by telephone (+91  9953 643 132) or you can fill the Appointment form available on this website under the contact us page. Instead use the fast and effortless online booking webpage, whichever you're familiar with.
Do you have Dr. Aggarwal Physio Centers in Noida Sector 77, 48 or Sector 33?
Yes, We have multiple branches in Noida. One is in Tulip Mall (Basement) Sector 48 Noida, another one is in Prateek wisteria, Shop No. 16, sector 77 Noida, and the third one is in the Dipakshi Hospital C-53A, Sector 33 Noida. 
What should I bring to start my Physio Treatment?
Be prepared to collect your past medical history and along with surgical history if you are facing some post-surgery problems. If there are any relevant scan/MRI reports along with a list of drugs, bring them too.
What should I wear to my appointment?
We recommend that you wear loose comfy clothes. We assure you to make you comfortable whatever is going to be the situation.
How many sitting or visits will I need?
The number of therapy sessions can be different, based according to your condition. After a thorough evaluation, the physiotherapist will talk about your therapy session, then will plan a treatment strategy accordingly.
Tell me the starting process of physio treatment?
On your first trip, We'll need you to complete some paperwork that will take approximately 5 minutes to finish. Please arrive 5-10 minutes early for this particular procedure. A thorough assessment will be run by our Doctor/Physiotherapist including questions about your own condition and physical exam.
We will offer you a very clear explanation, guidance, and recommendations which Will concentrate on giving you an individualized therapy plan. Your therapist may answer all queries or concerns You Might Have regarding your Illness and/or therapy.
Know What Our Patients Talk About Us
Physio Updates
We update you from time to time on current changes in Physiotherapy World as well as educate you about new physio-related equipments from time to time.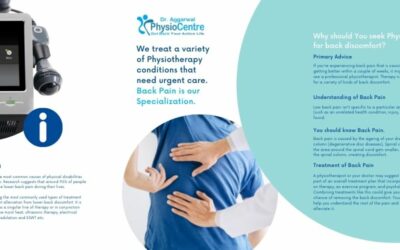 Physiotherapy and Back Pain Back pain is among the most common causes of physical disabilities most commonly in work. Research suggests that around 90% of people are likely to experience lower back pain during their lives. Physiotherapy is among the most commonly used...